Before Charleston hosted the International Heritage Rose Conference in 2001, local gardeners planted hundreds of antique roses in public spaces throughout the city. Those locations are listed below:
Our Hometown Rose: Learn about the Noisette, Charleston's heritage rose breed, and the rescue mission that brought it back into local gardens and churchyards
If there's a plant that deserves a place in every Charleston garden, it's the Noisette rose. Created amid elaborate "pleasure grounds" in Ravenel at the start of the 19th century, it set off an international craze, bearing clusters of fragrant flowers nearly all year. Today, Noisettes flourish in high-profile places—from the Gaillard Center to Hampton Park to historic churchyards—and claim a cult following among rosarians, horticulturists, and other green thumbs. So why do they still bloom under the public radar?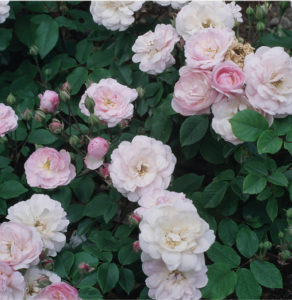 The story of this undercover beauty begins with planter John Champneys, an amateur horticulturist who cultivated 10 acres of gardens on his sprawling estate in Ravenel. There, he raised flowering trees, shrubs, and perennials from around the globe, including the 'Old Blush' China rose (Rosa chinensis). One of the first repeat-blooming roses to reach the Western world, it had recently arrived in the United States from Asia, thrilling gardeners who only knew roses that gave a single spring performance.
It's unclear whether Champneys knowingly crossed 'Old Blush' with the European musk rose (Rosa moschata), or whether bees made the fateful match, but scholars agree that between 1800 and 1814, an extraordinary bloom was born. Known as 'Champneys' Pink Cluster,' it was America's first hybridized rose—and a spectacular one at that. Never before had there been a repeat-blooming rose that thrived in warm regions like the Lowcountry but was also hardy enough for cooler climates.
Champneys propagated his treasure and shared it with colleagues, including his neighbor, Philippe Noisette. A French-born botanist whose father had served as a gardener to the future King Louis XVIII, Noisette ran a popular nursery on the Charleston Neck, along today's Rutledge Avenue. He continued to breed the rose, ultimately creating the frillier, fancier 'Blush Noisette'.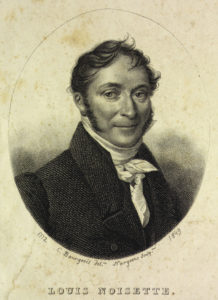 Around 1814, Noisette shipped plants to his brother, Louis, who quickly showcased them in his well-known Paris nursery. The Europeans went wild. "Perhaps no new rose was ever so much admired as this," wrote Thomas Rivers in his 1837 Rose Amateur's Guide. "When first introduced, its habit was so peculiar and so unlike any other known variety, that the Parisian amateurs were quite enraptured with it."
At Louis's invitation, famed botanical artist Pierre-Joseph Redouté painted one of the Charleston-born blooms in 1820, labeling it "Rosa Noisettiana" and "Rosier de Philippe Noisette." And thus, the new class of roses was promoted to the world with the name of Noisette. Some—from rosarians of the era to the Tumbleston family who today runs Champney's Blueberry Farm on the site of those long-ago pleasure grounds—contend that the rose should actually immortalize Champneys.
Rose breeders enthusiastically cultivated Noisettes, conjuring up dozens upon dozens of varieties in white and shades of pink. Around 1830, Europeans crossed it with a new introduction from Asia, the tea rose, creating a strain of climbing Noisettes that boasted bigger flowers in smaller clusters and new hues of yellow and apricot.
But in the end, the charming old Noisettes couldn't compete with the dazzling newcomers to the market. "People brought teas, as well as Chinas and Bourbons, to rose shows because the blooms are amazing—five or six inches across," says Elizabeth Ilderton, who has spent the last decade collecting and propagating Noisettes at her Mount Pleasant home. "Their glamour knocked everyone's socks off." Noisettes began to vanish from Southern gardens—even those of their Holy City birthplace.
Reviving the Noisette Rose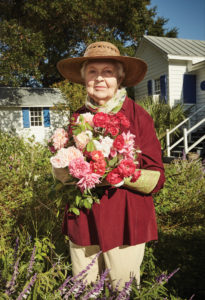 If it weren't for one woman, Ruth Knopf, they may never have returned. In the 1970s, the Upstate gardener struck out to find a fragrant shrub she remembered from childhood and wound up a "rose rustler." Members of this intrepid ilk hunt for untended old roses—often in historic cemeteries and churchyards, where mourners planted the shrubs beside gravestones. They clip off portions of stem to root in their own gardens and work to discover the original names and histories of their "foundlings," sometimes saving these tenacious growers from extinction.
Rustling all over South Carolina and beyond, Knopf found many similar-looking roses that bloomed repeatedly in fragrant clusters. It took a lot of digging, literally and figuratively, but she finally learned that all were of a class called Noisette that traced its roots back to Charleston. She was enchanted—and determined to reawaken interest in the historic bloom.
In the early 1990s, Knopf moved full-time to her Sullivan's Island summer cottage. She banded together with fellow gardeners and commenced to bringing antique roses back into the city's public spaces. Already, there was a Noisette garden at the Gaillard Auditorium, dedicated in 1976 by Noisette family members from the US and France. In an article for the Heritage Rose Foundation's journal, Rosa Mundi, Knopf wrote, "With thoughtful planning, old climbing Noisettes began to embellish the old iron palings in historic churchyards at the Unitarian Church and elsewhere."
Not stopping there, Knopf's tribe of petal pushers jumped on a chance to bring the ninth International Heritage Rose Conference to Charleston. And before the 2001 event, they decided, they would fill the city with blooms. A committee led by Knopf and fellow gardening-scene luminaries—Patti McGee, Jane Waring, and Mimi Cathcart—developed the Heritage Rose Trail. The informal path wound primarily through the peninsula but featured an important stop further afield: Boone Hall Plantation, where Knopf, as head gardener, had designed a landmark garden of heirloom roses.
The trail was no small undertaking. Volunteers planted and maintained hundreds of roses—many Noisettes but other antique beauties, too—at 20-some locales, including MUSC and College of Charleston, museum houses, and a dozen churches. A brochure (viewable at charlestonmag.com) paired a map with a list of varieties found at each location.
Meanwhile, Knopf and JoAnn Breland, then the City of Charleston horticulturist, joined with fellow experts to establish the first-of-its-kind Noisette Study Garden at Hampton Park. At the time, high-maintenance hybrid teas and Chinas filled the "rose walk" around the lagoon. Breland had been petitioning her director to swap in easier-growing antiques, and here was the perfect opportunity.
The team planted 30-some varieties of Noisettes—named cultivars as well as mysterious foundlings—in 11 large flower beds. They spent many months observing and recording intricacies of petals, fragrances, and prickles. Florida Southern College even conducted DNA analysis, unriddling two centuries of crossbreeding by man and nature. The studies proved that all the garden's roses were descended from 'Champneys' Pink Cluster' and that the inaugural Noisette was definitely the offspring of 'Old Blush' and a musk rose.
Today's Bloom Town
Many plants have vanished from the Heritage Rose Trail over the past 21 years, lost to storms, forced out by overgrowth, and razed in renovations. Others bloom in anonymity: Staff at a number of locations reported no knowledge about the roses that reach through their fences and fragrance their churchyards. Still, the Noisette revival led by Knopf—who was honored as a Great Rosarian of the World in 2011 for preserving and championing the plant—is very much felt within the city's gardening community, and significant sites along the trail have dedicated guardians.
In 2019, The Garden Club of Charleston refurbished the bank of Noisettes at the Joseph Manigault House, adding shrubs including the apricot-yellow 'Crépuscule' and white 'Aimée Vibert' to create what is today a showstopping display. "For people like me who love the old Southern garden look, which can be a little big and unruly, Noisettes are excellent," says the club's horticulture chair, Catherine McGuinn, a lifelong rose connoisseur (and Clemson Department of Plant Industry pro). "Drought-tolerant and mostly disease resistant, they do great in our climate. They smell divine and remain showy all summer long."
At The Unitarian Church, Noisettes are receiving VIP treatment in a new landscape plan. "We've always felt it's critical to preserve these roses," says Robert Jontos, chair of the churchyard committee. "As we try to restore the original concept for the churchyard—as envisioned by Caroline Gilman, wife of the first pastor, Dr. Samuel Gilman—we are working to identify each variety. The end goal is to place the roses in a location where they can thrive and be enjoyed by visitors."
Appropriately, the largest collections of Charleston's hometown rose—those at Boone Hall Plantation and Hampton Park—are both being cultivated by young Charleston natives. When Katie Dickson stepped into the role of lead horticulturist at Boone Hall last summer, "I inherited a healthy collection," she says. Nearly 30 carefully labeled Noisettes climb up wooden posts and ramble among annual and perennial plantings. "Garden enthusiasts always make a beeline for them," says Dickson. "Rosarians are particularly fascinated but also people interested in plants with fragrances that support pollinators."
At Hampton Park, "Roses are still the backbones of our flower beds—they're our gems," says City of Charleston horticulturist Hayley Bell McDaniel. But as the Noisettes in the test garden fell victim to weather events and other perils, they were often replaced by teas and Chinas. Due to an early-2000s rose-stealing spree ("Entire shrubs were dug up in the night," says McDaniel), staffers stopped labeling the plants and lost track of which varieties were which.
Changes are on the way. "This spring, I plan to add 15 Noisettes to the current collection of about 30," says McDaniel. Furthermore, the Charleston Parks Conservancy hopes to start cataloging and reidentifying the test garden holdouts within the next two years. "We'd like to create programming around them and potentially propagate them to filter into other parks or sell to the community in fundraisers," says associate director of horticulture operations Kellen Goodell.
It would be a fitting continuation of the city-conservancy partnership that introduced the Rose Pavilion in 2019. Centered around the decades-old Snack Shack building, this gathering and event space is an Eden of some 200 heirloom roses—among them several Noisette varieties, as well as 'Old Blush.' Plants are labeled, making it an excellent stop for perusing heirloom options.
Between the inviting pavilion and fresh efforts underway throughout the city—including Heritage Rose Trail sites such as MUSC, where grounds manager Robin Smith plans to plant new Noisettes this spring—it seems a second revival is in the works. "It's time to once again introduce Charleston to these beautiful roses," says McGuinn. "They deserve a place in the modern garden."
Roses have a diva reputation for good reason. "Some are nearly impossible to grow," says Catherine McGuinn, The Garden Club of Charleston's horticulture chair. Not so with the Noisette. "They are reliable, hardy, and mostly disease resistant," notes the self-professed "lazy gardener," who loves that she can harvest loads of fragrant blooms fromfrom her backyard roses with minimal watering, pruning, and fertilizing. Learn the basics below.
STYLE & SHOPPING
TRENDS
STYLE Q & A
FASHION
STYLE BUZZ
LOVE IT!
VIDEO AND MULTIMEDIA

Copyright © Dez Inc. dba GulfStream Communications